How to Set up Screen Free Music for Your Kids (while staying in the 21st century!)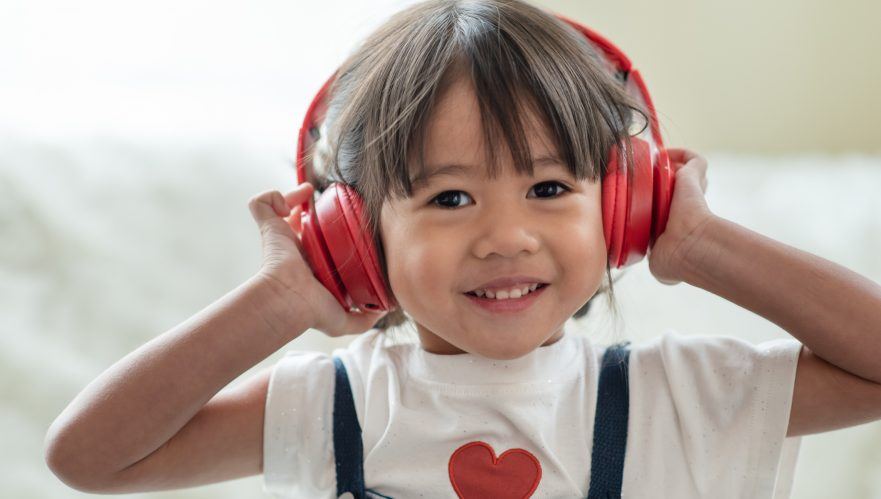 Pin It
One of my favorite things to do as a kid was to sit in my room and listen to music. Whether it was top 40 on my boom box, a new CD or some vinyl, I could always steal away to my own space, make my own choice and explore. These days, the music landscape is different. For adult and teen music lovers it's a treasure trove of music right at our fingertips, but for younger kids, the simple act of listening to music in their rooms can feel like a difficult task. Music is now, almost exclusively, connected to a screen and many parents do not want their kids staring at a device all the time – especially alone in their rooms. So what are we parents supposed to do?
This question comes up at almost every workshop I teach and I myself have been struggling with it for a long time.
I first want to share that up until recently, my boys were very content with non digital options and I highly recommend these for younger kids. If you have a large CD collection at home sitting around collecting dust, you can buy a cheap boombox/cd player and hand down your CDs. My youngest son loved this and still uses it occasionally. He also likes saving up allowance to go CD shopping and looking through the booklets that come with the CD. You can also find great books on CD and lots of kids music.
For my older son I bought him a portable record player. He also got to choose from my record collection and loves receiving vinyl as a gift. There is something really beautiful and special about the package and the record itself. He uses it less now that he's a bit older, but I think it taught him appreciation for what a whole album can be – as opposed to just one single after another.
Ok, moving on! Anyway, I finally took some time to really dig in to what the alternative DIGITAL options are for listening to music without a screen and I'm here to share my findings with you! These are listed in no particular order and have either been tested by friends, other parents or myself. None of these seem perfect, but they're the best we've got…
So the first thing to consider is what music subscription service to use. If you already have an Apple Music, Spotify, Pandora or Amazon Music account for yourself I'd work with what you've got first.
Apple Music is Apple's streaming subscription service. It offers millions of songs, genres, algorithms to learn your taste, plus access to lyrics and other album extras. The music can be downloaded so that you can listen to it offline, but unlike the itunes music that you purchase, this music can not be transferred onto mp3 devices (unless you rip it, but I'm not going to advocate that). They offer a Family Plan for $14.99 which allows up to 6 people and each one can have a personal account with their own music choices – key when you've got kids!
Apple Music can obviously be played on new ipads, iphones, Apple watches, but for our purposes we want to look at the devices without screens that it works on. Here are your choices:
Homepod is Apple's smart speaker. It works with Siri to play music, answer questions and even control other smart devices in your home. The cool thing about one of these in your child's room is that you can use it with Airplay 2 and have different music choices playing in different rooms. Here's how the website explains it:
"When you add HomePod to multiple rooms, the speakers communicate with each other through AirPlay. So you can ask Siri to play jazz in the lounge room and the Moana soundtrack in the kids' room — or to play the same song everywhere in the house — all from where you're standing."
Airplay also works on other speakers that are specifically labeled as Airplay 2 enabled – Sonos, Bose, Beats all offer them. But, as far as I understand, those speakers aren't Siri enabled, so if your child wants to choose the music themselves and ask Siri to play it in their room they'd need the Homepod for that.
Pros: 
Allows for multiple user accounts all controlled through family sharing
Allows parents to set content restrictions for explicit lyrics
With Airplay and Homepod Apple Music offers the option of each member of the family listening to their own music in their own spaces by simply asking Siri
Rated very high on audio performance
Apple takes privacy seriously and will not spy on conversations or keep recordings to sell to data collection agencies for profit.
Cons:
The Homepod is expensive
No bluetooth streaming (though I'm not sure you'd need it)
Can't use headphones with the Homepod
Amazon Music Unlimited + Alexa
Amazon Music offers a few different streaming services. If you're a Prime member you get a Prime Music subscription which comes with about 2 million songs, but you can't have a family account. Amazon Music Unlimited is a streaming service with basically the same offerings as Apple Music or Spotify in terms of having a family membership for up to 6 people at $14.99.
Amazon Music can be streamed on any Alexa enabled device so that means any of the echo, or echo dot speakers, Fire Tablets, but also others like the Sonos One. I'll get into the Sonos more later.
The MOST IMPORTANT thing to consider about having an Alexa enabled device in your child's room is PRIVACY. Many parents and privacy activist groups have called on Amazon to change their data collection policy when it comes to children. As it stands Alexa listens to and records everything it hears. The data about you is saved to be used either for business research and financial purposes by selling it to third party app developers who want to learn about their customer base and how to market directly. The problem is that we still don't know all the ways in which third parties may be able to use information about you that is gathered in this way. For parents that are worried about privacy issues Alexa as well as any Google services are probably not the best bet.
Pros:
Allows for multiple users on one family account.
Can be used with any Alexa enabled speaker or with The Mighty (see below)
Echo offers other fun programming and games for kids as well as all Alexa enabled skills
Very affordable options available
No ads when you pay for Music Unlimited
Cons:
You are basically giving up your privacy and sharing data about your child based on what Alexa hears in the bedroom.
It's more than just music at your child's fingertips
Not all the devices will connect to headphones
This is the route I've taken with my boys. The Mighty is this cool little device that reminds me of the old iPod Shuffle. There is no screen and it's about 1.5" square. It is truly just for listening to music. Through the Mighty app you connect each device to a Spotify account (now it works with Amazon Music too) and sync it to whatever playlists you choose. The playlist gets downloaded and it available offline. Every time you want to update the playlists you just do a quick sync with the app. You can then listen on headphones or just link it to a bluetooth speaker.
Spotify, like the other streaming services offers a family plan for $14.99 with up to 6 accounts. It now allows for parents to ban explicit content on individual accounts – a new feature that was added in response to parental pressure. With the paid plan there are no ads and while it does aggregate data it does so anonymously, not with any kind of specific user personalization.
Pros:
The Mighty is easy to use and parents can still have some control over what music gets on there
Decent price point
Portable with no wifi needed
Can be used with headphones or a bluetooth speaker
Works with both Spotify and Amazon Music
Cons:
It's small so could potentially get lost (though it has a clip for attaching it to places)
No voice command available
Needs occasional access to the app to be refreshed and updated
Ok – so those are my main pics. Of course there are some other options out there are well.
I know that some parents hand down their older iPhones and remove every app but iTunes – that might be an option as long as you don't mind the screen and are sure to put on the app downloading restrictions.
There are also other speakers and "radios" that are streaming enabled and if you do a search online you'll find a bunch that pop up. Sonos appears to have a great smart speaker that can be connected to a whole system in the home and works with various streaming services as well as Alexa, Google Assistant and AirPlay.
Julia Storm is a Los Angeles-based Digital Media Wellness Educator, writer, speaker and founder of ReConnect. Julia founded ReConnect with the mission of providing parents a whole child and whole family approach to preparing kids for life in the Digital Age.  Julia provides practical advice as an educator, consultant, and speaker to help parents, children, school administrators, community and religious organizations, A-List celebrity clients, corporate and non-profit companies, and at conferences to better understand, navigate, and thrive in the digital world.  Julia is a frequent speaker at educational conferences, schools, and businesses. She has also shared her expertise as a guest on on The KTLA Morning News.
Posted in: Screen Time